Product Summary
The K2400G Sidac is a silicon bilateral voltage triggered switch with greater power-handling capabilities than standard diacs. Upon application of a voltage exceeding the Sidac breakover voltage point, the K2400G switches on through a negative resistance region to a low on-state voltage. Conduction will continue until the current is interrupted or drops below the minimum holding current of the K2400G.Applications of the K2400G include: High voltage lamp ignitors, Natural gas ignitors, Gas oil ignitors, High voltage power supplies, Xenon ignitors, Over voltage protector, Pulse generators, Fluorescent lighting ignitors and HID lighting ignitors.
Parametrics
K2400G absolute maximum ratings: (1) All measurements are made at 60Hz with a resistive load at an ambient temperature of +25°C unless otherwise specified, Storage temperature range (TS) : -65°C to +150°C; (2) Junction temperature range (TJ) : -40°C to +125°C; (3) Lead solder temperature is a maximum of +230°C for 10 seconds maximum; ≥ 1/16 inch (1.59mm) from case.
Features
K2400G features: (1) AC circuit oriented; (2) Glass-passivated junctions; (3) High surge current capability.
Diagrams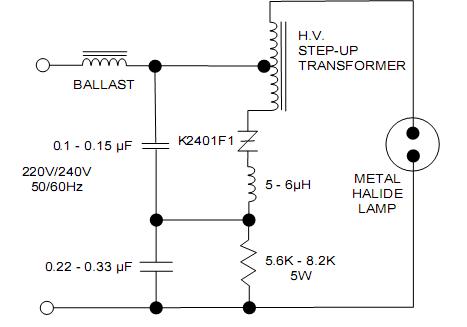 Image
Part No
Mfg
Description
Pricing
(USD)
Quantity

K2400GRP

Littelfuse

Sidacs 240V

Data Sheet



| | |
| --- | --- |
| 0-3050: | $0.34 |
| 3050-5000: | $0.33 |
| 5000-10000: | $0.31 |


K2400GHURP



SIDAC 240V 1A DO-15

Data Sheet



K2400GHU



SIDAC 240V 1A DO-15

Data Sheet



K2400GHRP



SIDAC 240V 1A DO-15

Data Sheet



K2400GHAP



SIDAC 240V 1A DO-15

Data Sheet



K2400GH

Littelfuse

Sidacs SIDAC 240V HI ENERGY

Data Sheet



| | |
| --- | --- |
| 0-1: | $0.43 |
| 1-10: | $0.41 |
| 10-100: | $0.40 |
| 100-250: | $0.39 |


K2400GAP



SIDAC 240V 1A DO-15

Data Sheet



K2400G

Littelfuse

Sidacs 240V

Data Sheet



| | |
| --- | --- |
| 0-1: | $0.69 |
| 1-10: | $0.55 |
| 10-100: | $0.47 |
| 100-250: | $0.42 |